Douglas Moo said Romans 1:21 was the "missing link" for Paul's argument in Romans 1:20, where he said those who suppress the truth God reveals about himself in creation have no excuse for their actions. "For although they knew God, they did not honor him as God or give thanks to him, but they became futile in their thinking, and their foolish hearts were darkened" (Romans 1:21). In other words, if you deny or suppress what creation reveals about God, you will never truly understand it. What's more, your failure to understand is inexcusable because it should have been quite plain to you.
According to Robert Mounce, we can reasonably expect that knowing God should lead us to honor him as God, since He plainly gives all people the basic requirements for life, regardless of their relationship to him. Their response should be gratitude, "But people choose to ignore God and come up with their own version of reality. By rejecting the knowledge of the true God, religion is born." Mounce's sense of religion here  seems to be a revision of Edmund/Edward Tylor's definition of religion as follows: "the belief in spiritual beings" other than the true God. This turning from the revealed truth of God to a personal interpretation of that revealed truth has been described as "the triumph of gods over God."
The sense of "God as you understand him" in Twelve Step recovery strikes off in two separate directions when the truth about God in creation is encountered. One is compatible with the Romans Road, and one is not. God as you understand Him is essentially "God as I am willing to accept" or "God as I am able to comprehend" Him. This first sense can be portrayed by the word "god" within a circle representing the person's understanding. This sense of  "god" becomes a projection or manifestation of a purely human attempt to explain reality.

The alternate sense, and one that is compatible with the Romans Road, is a circle of understanding that is infinitesimally smaller than God Himself. Something that looks like what follows: the representation of our understanding as a circle barely discernable with the "O" of God.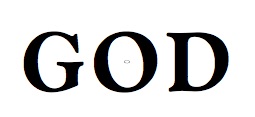 The distinction between these two "understandings" of God is illustrated in Anselm's Ontological Argument for God's Existence. Anselm said that even a fool can conceive of the idea of "god" as an absolutely perfect being; a being greater than anything we can imagine or conceive. But if this idea exists in our understanding, "then it can be conceived to exist in reality; which is greater." So if someone accepts that God is greater than our ability to imagine Him, He must exist in reality because existing in reality is greater than merely existing in the imagination. "Hence, there is no doubt that there exists a being, than which nothing greater can be conceived, and it exists both in the understanding and in reality." Brian Davies and G. R. Evans noted in Anselm of Canterbury: The Major Works that Anselm believed:
God cannot be thought of simply as a concept people have. He [Anselm] thinks people who deny God's existence can nevertheless be thought of as having some concept of God, for so he says, they have some idea of what it is whose existence they deny.
If reflecting on the meaning of the word 'God' shows that God necessarily exists in reality and not just in the mind as an idea of him, then someone who denies there is a God is ultimately proposing what must necessarily be false. Anselm saw his argument for the existence of God as paving the way for serious reflection on what we mean when we use the word 'God.' He also believed his 'proof' showed that God was what Christians believed God to be. But according to Romans, if this knowledge doesn't lead the individual to honor and give thanks to God, it is not saving knowledge of God (Romans 1:16, 21).
So if this knowledge does not lead to reverence and gratitude towards God, then it "falls far short of what is necessary to establish a relationship" with God. In Romans 1:21 Paul points to what will happen with an understanding of God based solely on the knowledge of God revealed in creation—your thinking becomes futile; and your foolish heart becomes darkened. Whatever your initial capacity to reason about God may have been, whatever initial knowledge of creation you might have had, failing to acknowledge God's hand in it means your thinking about it will ultimately be in vain; futile.
You can understand God to be greater than your ability to imagine Him, but still not have that knowledge lead you to worship Him. It requires the light of the gospel. Knowledge of God that does not lead you to honor and give thanks to Him leads to futile thinking and darkened, foolish hearts. Douglas Moo commented that at the very center of every person where the knowledge of God must be embraced is darkness. If the knowledge of God is to have any positive effects, then only the light of the gospel can penetrate that darkness.
As Paul has already said in verse 1:18 of Romans, the wrath of God is revealed against individuals who suppress the truth of what God has revealed. You need more than just an understanding of God as a being greater than anything we can imagine or conceive to have a relationship with "the God of the preachers." John Calvin said of the individuals Paul described in Romans 1:21, "They quickly choked by their own depravity the seed of right knowledge, before it grew up to ripeness." Robert Mounce put it this way:
To turn from the light of revelation is to head into darkness. Sin inevitably results in a darkening of some aspect of human existence. In a moral universe it is impossible to turn from the truth of God and not suffer the consequences. Ignorance is the result of a choice. People who do not "know" God are those who have made that choice. Understanding God requires a moral decision, not additional information.
According to the Reformation Study Bible, God will not allow human beings to entirely suppress their sense of God. Even in a fallen world people have a conscience; they have some sense of right and wrong. "When conscience speaks in these terms it speaks with the voice of God." And I think this is true for the Twelve Steps. By meditating on what 'God as I understand Him' means, perhaps someone will have a deeper appreciation of what Christians believe God to be.
If you're interested, more articles from this series can be found under the link for "The Romans Road of Recovery." "A Common Spiritual Path" (01) and "The Romans Road of Recovery" (02) will introduce this series of articles. If you began by reading one that came from the middle or the end of the series, try reading them before reading others. Follow the numerical listing of the articles (i.e., 01, 02, etc.), if you want to read them in the order they were originally intended. This article is "04," the fourth one in the series. Enjoy.