Western Pennsylvania is about to see medical marijuana sales begin. Two dispensaries are scheduled to open on February 15th, 2018. It's been almost two full years since Governor Tom Wolf signed Senate Bill 3, legalizing medical marijuana on April 17, 2016. As the Governor signed the bill, he said: "I am proud to sign this bill that will provide long overdue medical relief to patients and families who could benefit from this treatment." At the time, the press release expected implementing the state's Medical Marijuana Program to take between 18 and 24 months, making it right on schedule. Let's hope that what's coming sets PA on a different path than California's original legalization of medical marijuana did in 1996—despite the hopes of two of the sponsors of the new PA law.
When Proposition 215 was about to be approved in California, Senator Diane Feinstein said: "you'll be able to drive a truckload of marijuana through the holes in it." The devil is in the details, and she said that particular bill lacked details. A significant difference between Proposition 215 and the Pennsylvania Medical Marijuana Program is that in PA, dried leaves, plant material and edibles are strictly prohibited. Grower/processors can only manufacture the forms of medical marijuana listed in Act 16. These include: 1) a form medically appropriate to administer by vaporization or nebulization; 2) pills; 3) topical forms, including gels, creams or ointments; 4) tinctures; 5) liquids; or 6) oils. A licensed practitioner or medical professional determines which form is appropriate for the patient.
Cannabis products as they are to be sold in PA will provide medical relief to patients and families within the state without the patent medicine aura in dispensaries hocking different kinds of edibles or plant material for what "ails" you, as in states with less restrictive medical marijuana laws (like California). A medical professional (physician, physician assistant or certified registered nurse) has to be present during all hours a facility is open and offering to dispense or consult with a patient. Additionally, they all have to complete a required four-hour training and be registered with the PA Department of Health. Significantly, "a practitioner or physician may not issue a patient certification at the dispensary facility."
Patients wanting to participate in the medical marijuana program have to visit the online Patients and Caregivers Registry and create a profile in the Department of Health's patient and caregiver registry. Then they have to obtain a physician's certification they suffer from one of the 17 serious medical conditions listed in the graphic below. Returning to the Patients and Caregivers Registry, they pay $50 a year for a medical marijuana ID card. Caregivers for minors or patients unable to travel to a dispensary themselves can also participate in the medical marijuana program. Registered caregivers can have up to five patients. See the YouTube video, "Overview of Medical Marijuana in Pennsylvania" on the webpage for more information on the Pennsylvania Medical Marijuana Program linked above.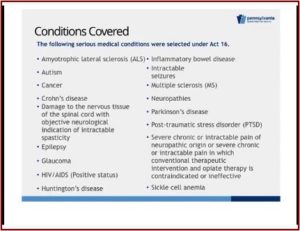 Look on the website for other resources such as a list of approved practitioners by state region and county, the Patient and Caregiver Registry, and an Information for Patients Brochure. Under certain guidelines, a parent, legal guardian or caregiver may administer medical marijuana to students with serious medical conditions while on school property. See the website for more information on what is required for this process.
The initial guidelines described above will give patients in Pennsylvania access to marijuana for legitimate medical reasons. If the guidelines are followed as described above, they will help the state avoid its new medical marijuana program morphing into what has happened in California since the approval of Proposition 215 in 1996. But Pennsylvania citizens and government officials need to be vigilant. At least two of the cosponsors of the legislation itself want to see the plant form of marijuana available for sale in dispensaries and to eventually to see the state move towards legalizing recreational marijuana.
In April of 2017 at the World Medical Cannabis Conference & Expo held in Pittsburgh, one of the sponsors of Senate Bill 3 (SB 3), State Senator Daylin Leach, said he expected medical marijuana would be available in plant form in dispensaries sometime during 2018. He noted a section of the bill authorizes an advisory board to make recommendations by April of 2018 about whether to change the permissible forms of the drug. During a panel discussion at the Expo, Margaret Sun for WESA reported Leach said the following about the advisory board:
"But they will [approve sale of the plant form of marijuana], because we're appointing people to do that," Leach said as the crowd laughed. "They will recommend that at latest by April 17 (2018), which means when dispensaries open, it is likely that they will have whole plant on their shelves from day one."
Leach's statement went over well with his listeners, but his ability to make good on his promise is more bluster than reality. What follows is a description of the members of the Medical Marijuana Advisory Board within the State Department of Health are supposed to include. I don't see him being able to stack this deck:
Members include the Secretary of Health; the Physician General; State Police Commissioner; Chair of the State Board of Pharmacy; Commissioner of Professional & Occupational Affairs; President of the Pennsylvania Chiefs of Police Association; President of the Pennsylvania District Attorneys Association; members to be appointed by the Governor and the four legislative caucuses who are knowledgeable and experienced in issues relating to care and treatment of individuals with a serious medical condition, geriatric or pediatric or clinical research. One member appointed by the Governor shall be a patient, a family or household member of a patient or a patient advocate.
Also, the Department of Health has the final approval on whether to add the smokeable plant form to the program, but as SB 3 is written—and as it is now described on the website—dried leaves, plant material and edibles are not approved. Leach's words suggest his intentions in sponsoring the medical marijuana legislation was at least partly as a stepping stone to his intent to pursue full legalization of recreational marijuana. Both Leach and another sponsor of SB 3, State Senator Mike Folmer, said they thought full legalization was inevitable in Pennsylvania. Folmer stated he couldn't politically advocate for legalization just now, as it was difficult enough getting Republicans on board with the medical marijuana program. He said:
I'd like to see our first dispensaries up, I'd like to see the first grower/processors going, and I think then, on my side, we'll see that the sky isn't going to fall, dogs won't sleep with cats, and the sun will still set in the West and civilization will not crumble.
Civilization won't crumble with the implementation of the existing PA Medical Marijuana Program. But our inability to trust disingenuous politicians who pragmatically use public sympathy for suffering individuals to further their political agendas will crumble our civilization. SB 3 was apparently a backdoor strategy for these two PA State Senators towards their desire to eventually legalize recreational marijuana. Was there ever any real concern for the needs of medical marijuana patients, or was it just rhetoric to get closer to recreational legalization? Leach is a Democrat from Montgomery County and Folmer is a Republican representing Dauphin, Lebanon and York Counties. Remember this if you live in the areas they represent as their term expires.
The Pennsylvania Medical Marijuana Program as it now exists will provide for suffering individuals within the state. And that is a good thing. Other than THC (the psychoactive cannabinoid in cannabis), there seems to be a significant medicinal potential with CBD (cannabidiol). Further research is needed and the federal classification as a Schedule I substance hampers that research from being done. That needs to change.
There are some serious researchers, like Staci Gruber, who are investigating the medical benefits of cannabis without being blinded to its potential adverse psychoactive harms. PA medical marijuana research would do well to partner with researchers like Gruber and her organization, MIND (Marijuana Investigations for Neuroscientific Discovery). Let's let research and not rhetoric guide the medical uses of the cannabinoids in cannabis. So far it seems there are limited health benefits from THC. See "Listening to Marijuana Research" for more information on this.
Solevo Wellness is set to open its doors for business in the Squirrel Hill section of Pittsburgh on February 15th. The dispensary's first shipment is coming from the grower-processor Cresco Yeltrah in Brookville, Jefferson County. Visitors will be greeted by a receptionist and show their necessary legal paperwork to gain access to products and then visit with a pharmacist. "Then they'll head to a showroom, where cannabis product samples are kept inside glass cases, make a purchase and continue with their day." The Solevo Wellness dispensary is constantly monitored by security cameras.
CY+ opened its doors with a ribbon cutting ceremony in Butler PA on February 1st. It will begin selling its products on the fifteenth as well. Larry Clark, the Pennsylvania Deputy Director of Medical Marijuana was there. He said: "It's a medical experience"; not the head shop approach. Kimberly Geyer, the Butler County Commissioner, said: "It defies all the traditional stereotypes associated with this industry." CY+ is owned by Cresco Yeltrah, which seems to be a subsidiary of Cresco Labs, a company out of Chicago. Charlie Bachtell, the cofounder of CY+, was at the opening in Butler. Bachtell is the CEO and Cofounder of Cresco Labs. They hope to open their second Western Pennsylvania facility in the Strip district by mid-April.
That's just around the time Daylin Leach thought the state advisory board could approve the sale of plant product in stores. Given the difficulty it seems there was in getting SB 3 passed not only does that seem unlikely, but it would be political suicide for medical marijuana activists. Dispensing marijuana as a medical product in an environment that has the feel of a medical practice or medicine shop rather than a head shop sets the right tone. Trying to force the so-called progressive cause of legalizing recreational marijuana on the back of the recent approval of medical marijuana could sink them both in PA. But Leach may have other things on his mind since his brash claim last year at the World Medical Cannabis Conference & Expo.
Daylin Leach had an event-filled 2017. He temporarily moonlighted as a lawyer for a Philadelphia law firm that lobbies for the marijuana industry from shortly after Governor Wolf signed SB 3 until he announced a run for Pennsylvania's 7th Congressional District in July of 2017. He then announced the suspension of his campaign in December of 2017 in the midst of accusations of a pattern of inappropriate behavior with several former female staffers. He took this step after a story in the Philadelphia Inquirer appeared in which a series of former campaign and legislative staffers accused him of inappropriate behavior. He said he was taking a step back to focus on his family and work with Senate leaders to address these allegations. "I will continue to do all that I can to advance progressive causes in the Senate and represent my constituents with honor."
Frankly, I think he's done enough and needs to move on to another progressive cause besides legalizing marijuana. But I suspect the financial lure of cannabis might be too strong for him to resist. So let's make other PA state legislators aware of wanting to keep marijuana medical in PA.