On July 9, 2015 eight Senators sent a letter to the Department of Health and Human Services (HHS), Office of National Drug Control Policy (ONDCP), and the Drug Enforcement Administration (DEA) asking for information on their efforts to facilitate scientific research into the benefits of medical marijuana. The Senators asked for answers to a series of questions, stating that relevant federal agencies had to play a leadership role in coordinating and facilitating research into medical marijuana. This began a process culminating in the administrators of the three agencies sending a detailed reply to their questions in an April 4, 2016 response … 26 pages long. And so speculation began that the DEA would decide whether or not to change the controlled substance status of marijuana "in the first half of 2016."
This was part of the inquiry made by the Senators' letter, in noting the need to remove "extraneous regulatory barriers for researchers who wish to perform scientific studies on the sue of marijuana for various diseases." They pointed to the need of the federal government to make a concerted effort to understand how marijuana works and what the appropriate doses and methods of treatment are, "like any prescribed medicine." Within Appendix C of the HHS, ONDCP, DEA response, was the following graphic and text delineating the process to schedule or re-schedule any drug.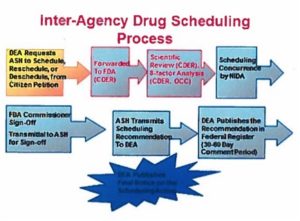 The Controlled Substance Act requires eight factors as part of its scientific review: 1) the actual or relative potential for abuse; 2) the scientific evidence of its pharmacological effect; 3) the state of current scientific knowledge regarding the substance; 4) the history and current pattern of abuse; 5) the scope, duration and significance of abuse; 6) the risk to the public health; 7) the psychic or physiological dependence liability; and 8) the immediate precursor of a substance already controlled.
Writing for the Huffington Post in April 2016, Matt Ferner noted the FDA completed its review of the medical evidence of the safety and effectiveness of marijuana, and forwarded it to the DEA. But the FDA recommendations are still not public. In the Washington Post, Christopher Ingraham interviewed John Hudak of the Brookings Institution, who said the small amount of researchers currently working with marijuana is not due to the government turning down applications to do the research. Rather, it is a function of the application process itself. "People just aren't applying because of all the headaches involved. . . . It's a huge disincentive for the academic community."
The bureaucratic hurdles also mean that colleges and universities are often hesitant to fund marijuana research for fear of running afoul of complex federal regulations. One ongoing study on the use of marijuana to treat veterans with PTSD has been struggling to get off the ground for more than five years, for instance.
There was an unconfirmed rumor by an "anonymous" DEA attorney that the DEA planned to reschedule marijuana as a Schedule II controlled substance and make medical marijuana legal with a doctor's prescription in all 50 states. This is simply not true. Rescheduling would merely make it easier to get permission to do research with marijuana, not make it legal for doctors in all 50 states to prescribe marijuana. If that were the case, why can't doctors prescribe cocaine legally? It is a Schedule II Controlled Subtance. Writing for The Fix, McCarton Ackerman noted the skepticism about the validity of the source.
In response to the rumors, DEA staff coordinator Russ Baer would not confirm the rumored rescheduling by August 1st in an interview with aNewDomain. Baer pointed out the complexity of what is referred to as "medical marijuana." While THC and CBD are the two main cannabinoids, there are an estimated 480 compounds in cannabis. "What is under-reported right now is how complex the marijuana plant is."
Baer said the DEA wants to remove the roadblocks to further research into the effectiveness of medical marijuana. However, he said the DEA doesn't support decisions made on anecdotal evidence.
We want there to be research on marijuana and its component parts, there needs to be (more) studies about both the benefits and the adverse effects about marijuana. . . . We want to know more about cannabis— we need rigorous scientific research — the DEA stands behind the scientific process.
He added that safe medical cannabis requires rigorous peer-reviewed studies. He singled out current research into the benefits of cannabinol (CBD). "We are told by NIDA, also, that there are medical studies out there also preliminarily indicate CBD is beneficial." But the opioid crisis has captured most of the DEA's attention. "Marijuana is important, but our efforts are mainly focused on the nation's growing opioid crisis. . . . We're focusing on fentanyl, fentanyl compounds and on preventing the deaths caused by opioid addiction."
A June 24th article by Kate O'Keeffe for the Wall Street Journal said Baer didn't expect an answer by June 30th, but the agency was in the final stages of deciding whether to reschedule marijuana. He added that a decision is expected sometime soon.
On July 13, 2016 Dr. Douglas Throckmorton of the FDA appeared before the Judiciary Subcommittee on Crime and Terrorism. In his written statement to the committee, he reiterated its standing 2006 recommendation that marijuana remain as a Schedule I controlled substance because of a high potential for abuse; no currently-accepted medical use; and that it lacks accepted safety for use under medical supervision. However, "DEA is currently in the process of evaluating a number of other Citizen Petitions regarding the scheduling of marijuana."
He noted there are three drugs approved for human use that contain active ingredients present in or similar to those in botanical marijuana: Marinol Capsules, Syndros and Cesamet Capsules. These products have undergone the FDA's approval process and have been determined to be safe and effective for their respective indications. The future of medical marijuana lies in "classical drug development."
If there is any future for marijuana as a medicine, it lies in its isolated components, the cannabinoids and their synthetic derivatives. Isolated cannabinoids will provide more reliable effects than crude plant mixtures. Therefore, the purpose of clinical trials of smoked marijuana would not be to develop marijuana as a licensed drug but rather to serve as a first step toward the development of nonsmoked rapid-onset cannabinoid delivery systems.
Throckmorton pointed to three Fast Track designations for Savitex (April 2014), Epidiolex (June 2014) and a CBD formulation of Insys Therapeutics to treat Dravet syndrome (February 2015). All three are drugs derived from marijuana. He said the FDA is working with researchers who are conducting studies on the development of potential new drugs derived from marijuana.
FDA encourages and supports medical research into the safety and effectiveness of marijuana products through adequate and well-controlled clinical trials conducted under an IND [Investigational New Drug] and consistent with DEA requirements for research on Schedule I substances. FDA has provided scientific advice to representatives from several states considering support for medical research of marijuana and its derivatives, including CBD, to help ensure that their research is rigorous and appropriate.
Another date floated on the rumor pond for a DEA decision on rescheduling marijuana was August 1st, which is fast approaching. Will there be an answer? Who knows? According to Russ Baer, the DEA is not bound to give its answer within some artificially determined timeframe. So I suggest those anxious for an announcement by the DEA (senators and marijuana activists alike) apply a mash up of a famous Yogi-ism here: "Marijuana ain't re-scheduled till it's rescheduled." Perhaps the DEA is just trying to be careful in its decision making process about the rescheduling. Yogi Berra has some further words of wisdom to apply there: "You've got to be very careful if you don't know where you are going, because you might not get there."