Eight people at a Friday night party in Oklahoma took a liquid version of the drug 2C-E, a chemical cousin to "Smiles" (a synthetic imitation of ecstasy). They all began having seizures and coughing up blood after about an hour. A 22 year-old woman—one of eight—died. "She just kept having one seizure after another." The 20-year-old guy who bought the drug off the internet from a company in China, was charged with first-degree murder.
A naked 35 year-old mother died of cardiac arrest after she was tasered by police. High on bath salts, she had tried to chock her three-year old son. She was seen chasing her partner and the three year-old through the neighborhood. The police initially tried unsuccessfully to restrain her with pepper spray, but she was violently combative, so they tasered her.
I've been following reports and news stories about the new psychoactive substances (NPS) for awhile, and found a Facebook page, "Synthetic Marijuana and Bath Salts Deaths," that posted links to the above two stories. The insanity of individuals willing to ingest these unknown and largely untried chemicals amazes me; and I've been counseling addicts for over thirty years.
The synthetic drug market is booming worldwide. By 2013, 348 new psychoactive substances (NPS) had been reported to the United Nations Office on Drugs and Crime (UNODC), most of which were identified between 2008 and 2013. They exist in every region of the world; 94 countries have reported their existence. See the graphic below, found in the 2014 Global Synthetic Drugs Assessment. Roughly five NPS enter the market every month.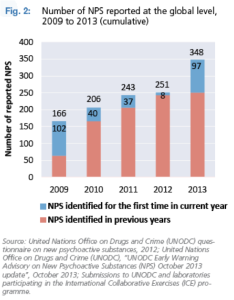 The greatest percentage of the NPS fall within three groups: synthetic cannabinoids (28%), synthetic cathinones (25%), and phenethylamines (17%). Synthetic cannabinoids mimic THC. Synthetic cathinones mimic stimulants and other ATS, including MDMA. Phenethylamines have effects that range from stimulant to hallucinogenics.
Easy to obtain, NPS are increasingly popular with teens and young adults. When they become known and are under legal scrutiny, a domino-like effect triggers the creation of newer, and often more potent, versions. A detective with the Grand Forks police department said that: "Anytime we try to figure something out it changes." Another problem is that synthetic drugs typically don't show up on drug tests, which makes them popular with anyone who gets treated for drugs—like military personnel and college athletes.
The U.S. and Canada are among the largest and most diversified markets for NPS in the world. Synthetic cannabinoids first appeared in 2008 and were marketed as "legal alternatives to marijuana." The American Association of Poison Control Centers reported that between 2010 and 2012, the number of calls about synthetic marijuana rose by almost 80 percent.
There is some evidence that local "hobby chemists" are making batches of these drugs from chemical products shipped from China. " Two California men are facing life sentences for their role in the production and distribution of synthetic drugs made from 660 pound of chemical products (worth $1.4 million) smuggled into the U.S. from China. Their arrests were the result of a three-year federal investigation.
"Anybody with a little money to front can import chemicals, mix, and sell it." China's new chemical entrepreneurs have also become involved in direct-to-the-consumer sales. A recent report confirmed that last November Eric Chang of Shanghai was arrested by Chinese officials and charged with producing ecstasy. Investigators said he made around $30 million selling drugs to the U.S. and Europe.
Erica Larsen captured the growing problem of NPS beautifully in the closing comments of her AfterPartyChat blog post, "Chem-Sex: Europe's Synthetic Madness":
Oh brave new world. You know the future has arrived when even former junkies haven't heard of half the drugs on the market. Will 12-step groups of the next decade be filled with recovering Miaow Miaow [a synthetic cathinone] addicts? How many arcade tokens will it take before authorities give up on whack-a-mole?